[Baum]
The birth of a new-feeling lotion that approaches excess sebum and dryness while providing moisture and smoothness.
The skin and mind brand "BAUM" (manufacturer and distributor: Etobas Co., Ltd.) with the theme of "Coexistence with Trees" approaches the imbalance between excess sebum and dryness, while moisturizing and smoothing. We will start selling the achievable new feeling lotion "Oil Control Lotion" from April 7, 2022 (Thursday).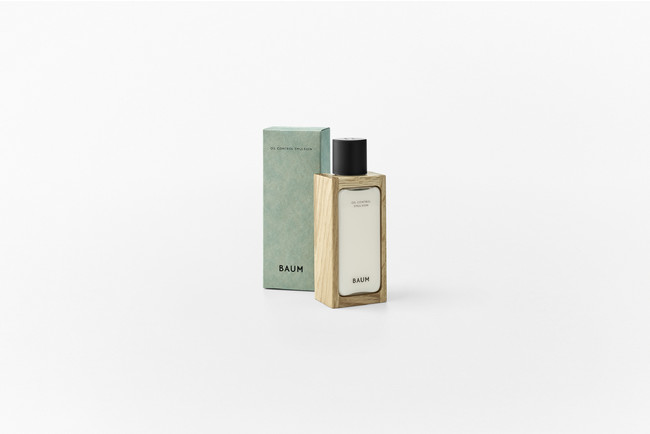 product Overview
・Mix a natural powder with excellent sebum absorption effect and a high moisturizing lotion. Moisturizes and hydrates the skin, leaving it smooth and comfortable.
・Pay attention to the three functions of trees[water storage][growth]and[environmental defense].
・ Natural origin index 95.5% (including water) (calculated according to ISO 16128)
・ Naturally extracted sebum capture powder absorbs excess sebum, preventing shine and keeping it smooth for a long time.
・No preservatives, no parabens, no silicones, no synthetic colors
・A modern scent of natural trees and other scents to immerse you in the refreshing feeling of a forest bath.
・Prescriptions that are less likely to cause acne ・Allergy tested (not everyone gets acne or allergies)
About the source of trees and other components and their functions
・Contains the best water-storing ingredients* derived from trees, saturates the cuticle with moisture and keeps it hydrated.
*Sakura Leaf Extract*, Cellulose*, Glycerin
・Contains conditioning ingredients*, including those derived from trees. Moisturizes the skin and keeps it healthy and smooth for a smooth and smooth skin.
*Cassia Bark Extract*, Sapindus Bark Extract*, Mangosteen Bark Extract*, Glycerin
・Combination of tree-derived *defensive ingredients* protects skin from environmental and sebum-induced problems and keeps it healthy.
*Ginkgo Biloba Leaf Extract*, Wood Leaf Bark Extract*, Pipa Leaf Extract*, Neem Leaf Extract*, Theanine*
Post Background: For Adult Skin With Sebum-Derived Problems and Dry Skin
Many men and women in their 20s and 30s suffer from sebum-related issues such as shine, visible pores, and acne caused by excess sebum, and are reluctant to use skincare to replenish oil. However, unlike the skin of teenagers, large pores and acne are not only caused by sebum, but dryness can make the situation worse, so if you want to solve the problem of sebum in adults, it is important to balance moisturizing and sebum care, and skin care is very important.
Instructions
・After applying the serum on the whole face, take a palm of about 2cm in diameter and apply it evenly over the whole face.
(recommended for use with Baum Hydro Essence Lotion)
・If a large amount is applied, whitening and unevenness may occur, in this case, please adjust the amount.
About BAUM
Under the theme of "living with trees", over 90% of our products are made from natural materials*1.
It's a skin and mind brand that is aware of sustainable distribution options even in product packaging and in stores. We provide an experience where people who value physical and mental harmony, regardless of gender or age, can feel the trees every day.
*1 All cosmetic products have a natural origin index of 90% or higher (including water) in accordance with ISO 16128
BAUM official website www.baumjapan.com
BAUM Official Instagram https://www.instagram.com/baum_global/
where to buy
Available in the following BAUM stores and online.
https://www.baumjapan.com/baum/stores/index.html
[BAUM商店]
・ Sapporo Stellar Place (Stellar Place Sapporo B1F, Kita-5jo West 2-chome, Chuo-ku, Sapporo City)
・ Shin-Marunouchi Building (3rd Floor, Shin-Marunouchi Building, 1-5-1 Marunouchi, Chiyoda-ku)
・Isetan Shinjuku Main Building (3-14-1 Shinjuku, Shinjuku-ku, Isetan Shinjuku Main Building 1F Cosmetics)
・Isetan Men's Building (3-14-1, Shinjuku, Shinjuku, 1st floor, Isetan Men's Building, Shinjuku)
・ Shibuya Scramble Square + Q Beauty Store (6th floor, Shibuya Scramble Square, 2-24-12 Shibuya, Shibuya-ku)
・ NEWoMan Yokohama (JR Yokohama Tower NEWoMan Yokohama 3rd floor, 1-1-1 Minamisaiwai, Nishi-ku, Yokohama)
・ Takashimaya Gate Tower Mall (6th floor, Takashimaya Gate Tower Mall, 1-1-3 Nae Station, Nakamura-ku, Nagoya City)
・ LUCUA Osaka (3-1-3 Umeda, Kita-ku, Osaka City, LUCUA Osaka, 3rd floor)
・Shinsaibashi PARCO (3rd floor, Shinsaibashi PARCO, 1-8-3 Shinsaibashi, Chuo-ku, Osaka)
・Osaka Takashimaya (1st floor, Osaka Takashimaya, 5-1-5 Namba, Chuo-ku, Osaka City, Osaka Prefecture)
・ Amu Plaza Hakata (6th floor, Amu Plaza Hakata, No. 1-1 Chuo Street, Hakata Station, Hakata-ku, Fukuoka City)
【online store】
・I add (https://www.shiseido.co.jp/wp/index.html)
・Lighting (https://i.lumine.jp/)
・Amazon (https://www.amazon.co.jp/)
・Shopping in cosmetics (https://www.cosme.com/)
・meeco (https://meeco.mistore.jp/meeco/index.html)
・ Mitsukoshi Isetan Online (https://www.mistore.jp/shopping/)
・Hankyu Beauty Online (https://web.hh-online.jp/hankyu-beauty/)
・ E. Department Store (https://edepart.omni7.jp/top)
・Online shopping at Tokyu Department Store (https://www.tokyu-dept.co.jp/ec/cmTopPage)
・Takashimaya Online Shop (https://www.takashimaya.co.jp/shopping)
Refer to the retail price list
Product Name: Baum Oil Control Lotion
Category: Lotion
Number of varieties: 2
Capacity: main body 100mL, refill 100mL
Price (tax included): 8,800 yen for the unit, 7,700 yen for the refill
There are no price symbols on the product and appearance. Please refer to the above prices when posting (subject to the editorial department).
Example) Baum oil control lotion body 8,800 yen including tax (according to the editorial department)
To company press release details (2022/03/29-17: 17)