Rising temperatures reduce water supply
Despite some severe winter storms, the West is still in the midst of a prolonged drought with consequences extending across the Colorado River. In a series of blog posts on drought and declining water supplies, three university professors offer insights into potential solutions.
Stephen McAfee, a Nevada climatologist and associate professor of geography, wrote about how western temperatures affect the water level of the Colorado River. While drought is not uncommon for the region, even centuries before flowmeters measured water flow in rivers, the high temperatures the region has experienced over the past two decades were unusual and had a major impact. The water level in Lake Mead, an indicator of water supply, is expected to drop to 1,075 feet.
Water allocations in southern Nevada will be reduced by 7 percent as the federal government declares a level 1 water shortage due to reduced water supplies. These dramatic reductions require creative solutions, such as the use of recycled water in parks and golf courses. Reclaimed water will be a valuable alternative to typical water sources, writes associate professor of geography Kerri Jean Ormerod. The $1.2 trillion infrastructure package recently passed by Congress provides substantial funding for improving water infrastructure, she wrote.
For now, the shortage will mean water will be allocated under a drought contingency plan, a set of guidelines adopted by seven states that depend on the Colorado River. Elizabeth Koebele, assistant professor of political science, and her research team are studying how to renegotiate drought contingency plans to address the more severe impacts of climate change facing Nevada and the region.
Impact of the Global Water Center
Over a six-year period, the reach and reach of the Global Water Center was extensive. The center operates in dozens of locations, including Mongolia, Antarctica, Chile, and Italy, and its faculty conduct research on every continent. Zeb Hogan, conservation biologist and host of the National Geographic wildlife show "Monster Fish," has worked closely with Chandra, director of the Global Water Center, for more than a decade. Hogan and Chandra emphasize immersing themselves in the culture of any country they work in to better understand the culture and how people depend on the water systems around them.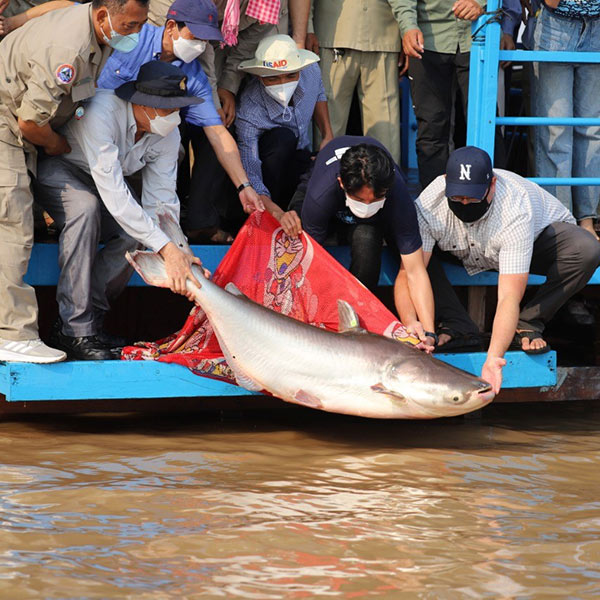 Hogan recently led the release of more than 1,500 fish to a fish reserve in Cambodia's Tonle Sap Lake. The team working with Hogan includes project staff from the Mekong Wonders Project, students from local universities, postdocs and faculty, environmental rangers, and military and police. Fish release is part of a research project to understand whether fish reserves are an effective way to support endangered species, and the findings will inform future decisions about endangered species conservation.
The Mekong Wonders project is just one project of the Global Water Center, and it is a good example of the importance of the Center's research. The mission of the Global Water Center is to "translate science into actionable solutions that stakeholders can use; conduct multidisciplinary collaborative efforts to solve water problems; and create novel "high-tech" tools (drones and models) to predict water the future state of resources," and the work being done will certainly fulfill that mission.