[Precog有限公司]
A new video from the team of director, curator and researcher Mark Teh from Kuala Lumpur, Malaysia is finally out!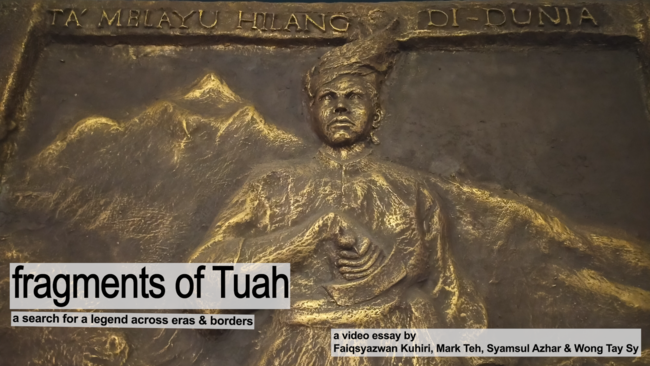 A poetically and speculatively created video essay based on extensive research, focusing on "Hang Tuah", the "legendary hero" of the 15th century Malacca kingdom known to everyone who grew up in Malaysia.
For more than 600 years, we will re-arrange the stories of Hantuah and the eras that have woven into the hearts of people with pride as a "Malaysian", eliciting questions from young people living in modern Malaysia.
Website: https://theatreforall.net/flagments-of-tuah/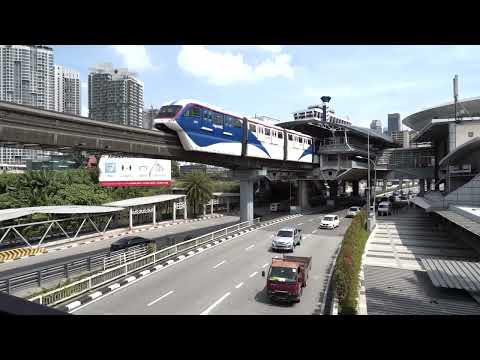 [视频分发]March 24, 2022 (Thursday) ~
Theater for All, now available on vimeo (for a fee)
*1: Original (English/Malay subtitles) 2: Accessible Japanese subtitles
[公开纪念放映+谈话活动]March 27, 2022 (Sunday) 15:00- (planned)
To commemorate the launch, we will be holding screenings and talk events. The talk event will be attended by Mark Teh of the video production team and Faiqsyazwan Kuhiri, digital producer of Malaysian independent broadcaster "BFM". We are delighted to welcome independent curator Kumiko Itaka, co-curated with Mark Te, to the Breathing Map exhibition (2018-2020). We will talk about this work based on the Malaysian "legendary warrior" Hantuah, which contains secret stories of video production such as research and filming in Corona, as well as Q&A with visitors.
Participation tickets are available at Peatix!
https://fragmentsoftuah-screening.peatix.com/view
Schedule|March 27, 2022 (Sunday) 15:00-18:00 (planned/closed)
Format | Project Screening・Live Talk *The talk will be conducted in Japanese.
Showtime | Approx. 47 minutes
Language | English Voice
Subtitles | Accessible Japanese Subtitles
Participation fee|1,300 yen (tax included, prepaid only, limited to 10 people) *With video viewing link (distributed later)
Talk Speaker|【Artists (*Malaysian online participation)】Mark Teh, Faiqsyazwan Kuhiri / [ゲストスピーカー]井高久美子/[モデレーター]中村茜
会場|CAPSULE https://capsule-theater.jp/
【作品概要『fragments of Tuah ‒ トゥアの片影』】
舞台はマレーシア。主人公は「ハン・トゥア」とクアラルンプールに暮らすミュージシャンである「語り手= わたし」。マレーシアを代表する現代アーティスト、マーク・テたちが、何百年も語り継がれる英雄の痕跡を探し歩き、本や博物館、テレビや映画、街頭や墓場、沖縄にあると言われる実在の痕跡まで追い、製作した作品。マレーシア全土に様々なかたちで生き続ける「ハン・トゥア」。 彼の存在あるいは欠如は、マレー圏やマレーシアの文化、アイデンティティ、想像力をどのように形づくっているのだろうか。
ハン・トゥアは実在したのか?
それともフィクションなのだろうか?
様々な断片を通して "英雄" の姿と謎を解明する最新ビデオ・エッセイ。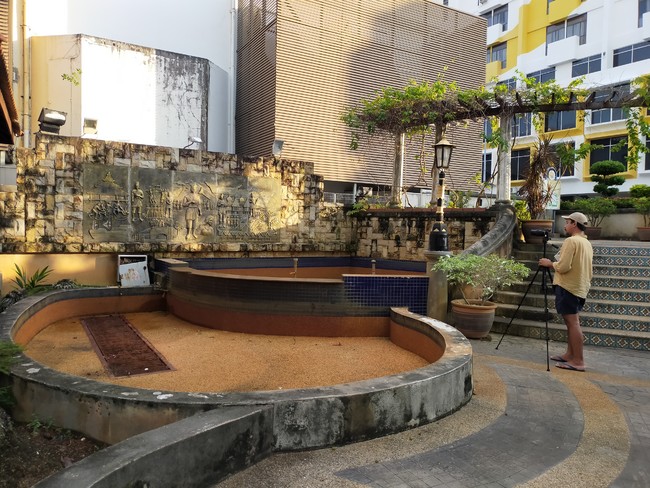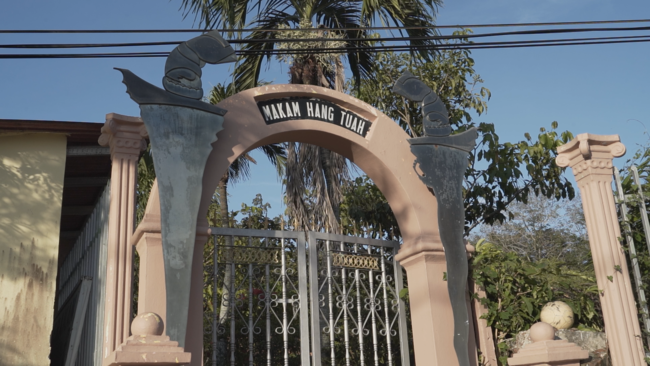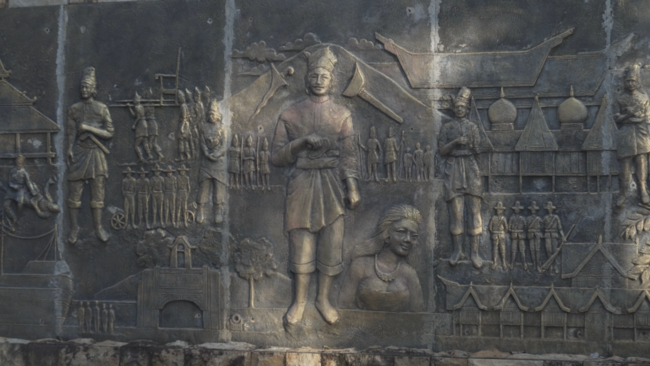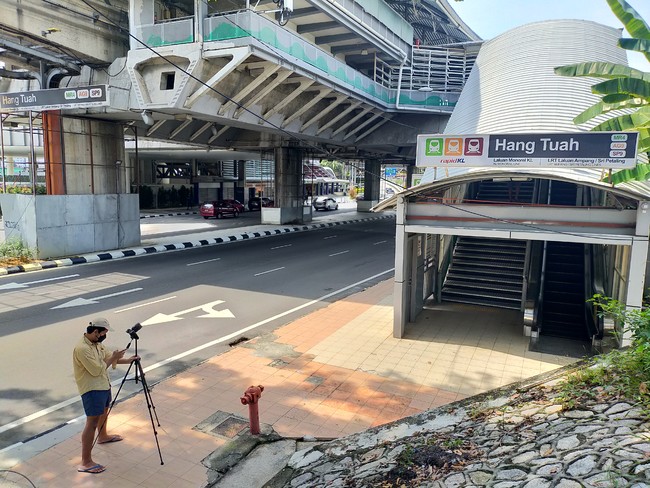 【作品制作の背景】
Mark Teh(マーク・テ)の代表作のひとつである、1955年のマラヤ戦争終結に向けた和平交渉の失敗と世界冷戦の重要な瞬間を描いた作品『Baling (バリン)』が、世界10都市で上演されてから7年。マークは2018年に共同キュレーターを務めた展覧会『呼吸する地図』(山口情報芸術センターにて開催) で日本各地でのリサーチを行い、沖縄の島々に興味を抱くようになった。
その後、神里雄大との《南方から「歴史」を読み換えるリサーチコラボレー ション》として琉球諸島でリサーチを実施し、創作を開始。マレーシアの "伝説の英雄" ハン・トゥアの実在 の証拠とされる「短剣」が沖縄で発掘されたことから、本作の構想は始まった。
【《南方から「歴史」を読み換えるリサーチコラボレーション》最終章】
移動し越境する人々をテーマにした作品を発表する作家・舞台演出家の神里雄大とMark Teh(マーク・テ)による、リサーチ・コラボレーション プロジェクト。
2018年7月にインドネシア・ジョグジャカルタにて開催された「Jejak-旅 Tabi Exchange 2018」でのプレゼンテーションをきっかけに、全く異なる手法でリサーチを行う神里とマークによるリサーチコラボレーションが発足。2019年、国境の「端っこ」を中心に置き換えて考察し、中央と周辺、支配と被支配、とい うテーマでプロジェクトがスタート。 2019年12月から2020年2月にかけて、琉球諸島(奄美大島、徳之島、沖縄本島、宮古島など)でリサーチを実施。 その後もタイや「Jejak-旅 Tabi Exchange 2020」プログラム等で神里・マークは緩やかな対話を続け、それぞれに新作の構想を練り、創作を開始した。
2020年に神里が発表した「カオカオクラブ・オンライン」に続き最終年となる今回、マークは本作 『fragments of Tuah ‒ トゥアの片影』を発表する。
【ハン・トゥアとは?】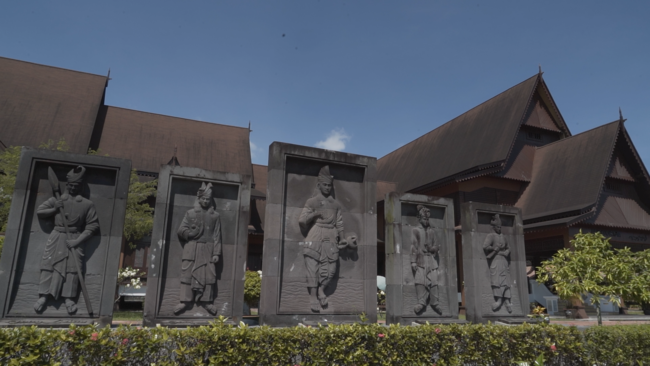 ハン・トゥアの歴史的存在については、多くの疑問と論争が残っている。マラッカ王国の⻩金期である15世紀に「活躍した」とされる人物で、マ レーシアの国家的アイコンとして今も重要視される。一般的には、スルタン(国王)への忠誠心が強い戦士や、マラッカのラクサマナ(提督)として世界各国を訪問した外交官など、マレーシアの歴史や政治に深く関わる伝説的な人物として表現されることが多い。
【クレジット】
映像製作:ファイク・シャズワン・クヒリ、マーク・テ、シャムスル・アズハー、ウォン・テイ・シィ
撮影(沖縄):神里雄大、鳥井由美子
英日翻訳:田村かのこ、春川ゆうき(Art Translators Collective)
バリアフリー日本語字幕監修:NPO法人シアター・アクセシビリティ・ネットワーク
バリアフリー日本語字幕映像編集:内田圭
共同リサーチ(2019年度):神里雄大
統括プロデューサー:中村茜
プロデューサー:⻩木多美子、水野恵美
コーディネーター:野崎美樹
プロジェクトマネージャー:佐藤瞳、平岡久美
企画制作:株式会社precog
主催:一般社団法人P
助成:
公益財団法人セゾン文化財団(国際プロジェクト支援2019-2021:南方から「歴史」を読み換えるリサーチコラボレーション)
芸術文化振興基金
協力:
沖縄県立埋蔵文化財センター
Jejak-旅 Tabi Exchange
企業プレスリリース詳細へ
(2022/03/21-12:17)