[也]
Eco-friendly material with excellent durability and water resistance to protect water and forest resources
"LIMEX Sheet" 80 μm made of limestone by TBM Co., Ltd. (Headquarters: Chiyoda-ku, Tokyo, CEO: Nobuyoshi Yamasaki, hereinafter referred to as TBM) is published by the Ministry of the Environment "Nikko National Park". Adopted in "Adventure Notebook".
LIMEX Sheet has been adopted in the "Nikko National Park Adventure Notebook" from 2020, but by switching from LIMEX Sheet 150 μm to LIMEX Sheet 80 μm, not only the entire booklet has become thinner and lighter, but the resource utilization has also improved us Can suppress it and reduce the environmental load. The sheet has a thickness of 80 μm, which is the same as or slightly thinner than general wood-free paper (copy paper), but has excellent durability and water resistance compared to paper. In addition, the amount of water used in the manufacturing process can be greatly reduced, and since wood pulp is not used as a raw material for the product, it can contribute to the conservation of forest resources.
The Nikko National Park Adventure Notebook has been distributed at the Nikko Yumoto Visitor Center and the Nasu Kogen Visitor Center (period of philatelic activity in the booklet: until March 31, 2022). Nature, history, culture, gourmet events, etc. in the national parks are introduced in an easy-to-understand manner with abundant illustrations. This notebook is made for elementary and junior high school students so that they can learn while enjoying the charm of nature. garden. Go to Nikko National Park and collect stamps with a one-handed adventure notebook to get the original item "Nikko National Park Towel".
LIMEX Sheet: https://tb-m.com/lp/limex_sheet-offset2203/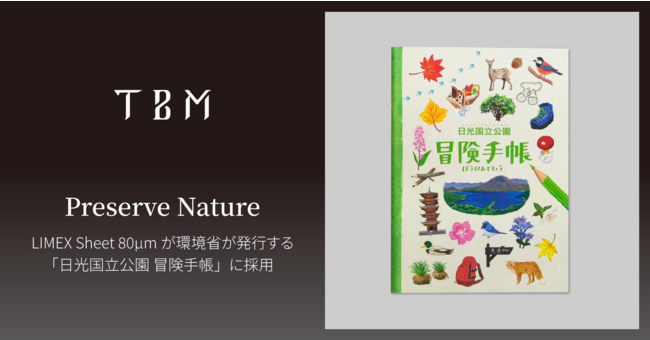 ■ Background
Usually, papermaking requires water and forest resources as raw materials for papermaking. On the other hand, by 2050, 51% of the world's population is expected to be at high water risk*1, and approximately 100,000 square kilometers*2 of natural forests will be lost annually since 2015. need to be dealt with. At COP26 (the 26th Conference of the Parties to the United Nations Framework Convention on Climate Change) in November 2021, more than 100 countries (86 forests worldwide), including Japan, announced the "Glasgow Leaders' Statement on Forests and Land Use" Declaration . Agree to the goal of eliminating deforestation by 2030.
Compared to paper, LIMEX Sheet can reduce the water resources required for manufacturing by about 97%, and because it does not use wood pulp as a raw material, it can contribute to the conservation of endangered natural resources. In addition, compared to PP (pre-propylene) and PET (polyethylene terephthalate) sheets, the amount of greenhouse gases containing CO2 and petroleum-derived plastics can be reduced. In addition, the LIMEX Sheet can be used to recycle materials, collecting and recycling scrap and used LIMEX products from the manufacturing process. In the future, the existing recycling facility and the Yokosuka recycling plant, which is scheduled to be completed this fall, will serve as a resource recycling platform for LIMEX, promoting various injection-molded products such as stationery and daily necessities using recycled materials, logistics and construction materials. I will work hard.
*1 WWF "Water Risk Scenario" (2020)|*2 FAO "Global Forest Resources Assessment 2020" (2020)
■ Features of LIMEX Sheet 80 μm
LIMEX Sheet 80 μm will be mass-produced in December 2021 at our second factory, Tagajo Plant (Tagajo, Miyagi Prefecture). The thickness is 80μm, which is the same as or slightly thinner than general wood-free paper (copy paper), high whiteness, soft and soft, and can be used as a substitute for a wide range of purposes. Paper. In addition, the Tagajo Plant uses "100% renewable energy" and "zero carbon dioxide emission factor" power together with the Shiroishi Plant of the first plant (Shiroishi City, Miyagi Prefecture), and the low load is highly rated and widely used.​​​ Catalogs, guides, maps, etc. issued by governments and companies.
Features 1 Price stability, price advantage
Limestone, the main raw material of LIMEX Sheet, has a domestic self-sufficiency rate of 100%. It is an extremely abundant resource on the earth, and the price fluctuation (fluctuation) is small, which can stabilize the supply price. LIMEX Sheet 80 μm is more competitive in price than coated paper and coated paper.
Feature 2 Excellent durability and water resistance
Compared to paper, LIMEX Sheet 80 μm is more durable and waterproof, making it suitable for use in stamp-pull notebooks, guides, maps and more for repeated outdoor use. * Water resistance varies depending on the ink used.
Feature 3 Clear printing and high quality texture
LIMEX Sheet has a high quality matte and high quality texture. Due to its excellent color reproducibility, it is suitable for children's prints that require vivid colors. In addition to UV offset printing, oil-based offset printing is also supported.
■ What is LIMEX?https://tb-m.com/limex/about
LIMEX is an inorganic filler-dispersed composite material containing 50% or more of inorganic substances such as calcium carbonate. LIMEX has been adopted by more than 8,000 enterprises and local governments, and has been patented in more than 40 countries around the world. It has been introduced at COP and G20 international conferences. It is an excellent technology of UNIDO (United Nations Industrial Development Organization) on a global scale. Japan. ) is registered in the Sustainable Technology Communication Platform "STePP". Resources with a high risk of depletion, such as oil, water and forest resources used in the manufacture of alternatives to plastics and paper, can contribute to conservation. We also use a scientific analysis method called life cycle assessment (LCA) to calculate the environmental impact of a product's life cycle, from raw material procurement to production, distribution, use and disposal, and use it for material development.
<关于石灰石>
Limestone, which is the main raw material of LIMEX, is very abundant on the earth, and even in Japan, a resource importing country, it is a self-sufficient resource. As a result, raw materials can be sourced at a stable price and supply is stable compared to petroleum-derived plastics, which are subject to fluctuations in crude oil prices. In addition, in terms of environmental protection, limestone can reduce CO2 emissions in the raw material procurement stage to about 1/50 of that of petroleum-based plastics, and CO2 emissions during incineration can be reduced by about 58%.
<关于回收>
LIMEX is a material that complies with the JSA standard (JSA-S1008). It is an inorganic/organic composite material with inorganic components as the main component. It can be recycled without separating inorganic substances. It is the main constituent material of LIMEX and thermoplastic resin. Thus, as with products designed with a single material, the possibility of recycling is guaranteed. To date, we have implemented many LIMEX material recycling programs using existing recycling facilities in partnership with businesses, consumers and local governments.
■ TBM Ltd.
President: Nobuyoshi Yamazaki
Headquarters: 1-2-2 Yurakucho, Chiyoda-ku, Tokyo 15F
Established: 2011
Capital: 23,249,930,000 yen (including capital reserve) / As of July 2021
Business content: Promote the development of environmentally friendly materials, product manufacturing, sales, resource recycling and other businesses.
URL: https://tb-m.com/
In 2013, the project "Advanced Technology Demonstration/Assessment Equipment Maintenance Fee Subsidy" was promoted through the site selection of the innovation base of the Ministry of Economy, Trade and Industry
In 2014, it obtained a domestic patent and is currently registered in more than 40 countries including Japan, China, the United States, and Europe.Over 100 other patent applications filed
2015 Construction of the first plant with an annual output of 6,000 tons of LIMEX in Shiroishi City, Miyagi Prefecture
In 2015, the Ministry of Economy, Trade and Industry approved the "Subsidy for the location of job creation companies in the tsunami/nuclear disaster area (manufacturing location support project)"
In 2016, he won the first "Social Impact Award of the World's Most Socially Influential Company" at "Plug and Play" in Silicon Valley, USA
Participated in the 2018 COP24 (the 24th Conference of the Parties to the United Nations Framework Convention on Climate Change) as a Japanese government delegation
In 2019, it was exhibited at the "G20 Innovation Exhibition" held in Karuizawa. G20 Osaka Summit 2019 venue adopts LIMEX products as operating products
2019 China's Henan Province signs the basic agreement for the commercialization of LIMEX in Mongolia
2019 CEO Nobuyoshi Yamasaki "2019 Japan Ernst & Young Entrepreneur of the Year"
Won the "Award" in the Outstanding Growth Category
2020 Release of "CirculeX", a material containing 50% or more recyclable materials such as waste plastic
2020 Introducing 100% renewable electricity to LIMEX production sites
2020 Started BtoC EC business "ZAIMA"
Construction of a second plant with an annual output of 23,000 tons of LIMEX in Taga City, Miyagi Prefecture in 2021
2021 Signed a 13.5 billion yen capital and business alliance agreement with South Korean conglomerate SK Group
2021 Launch of Japan's largest recycling plant project in Yokosuka City, Kanagawa Prefecture
*Company names and product/service names mentioned in this press release are trademarks or registered trademarks of their respective companies.
*The content of this press release is current as of the date of publication. It is subject to change at any time without notice.
To company press release details (2022/03/16-11:47)