【Armani Beauty】
– For elegant women who can put stress aside. ~
From Armani Beauty (https://www.armanibeauty.jp/), Armani's highest peak skincare line "Crema Nera" series, leading the skin to be revitalized and radiant, is a beauty essence, April 2022. It will be available nationwide from Sunday (Friday).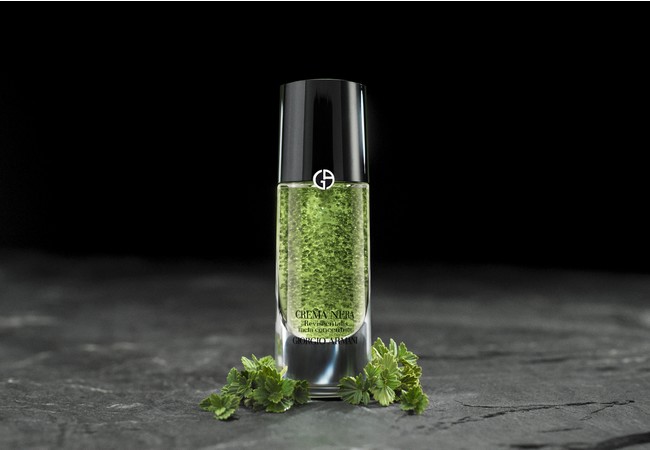 In pursuit of unforgettable elegance rather than eye-catching, Armani Beauty has also been passionate about developing skincare products to reveal inner beauty. In the "Cremanella" collection, the blessing of the mysterious-looking plant is blended into a useful ingredient "Rivicentaris*¹". Armani's premier skincare range, which brings moisture, firmness and smoothness to the skin, as if defending against external stress*², leaving the skin revitalized and radiant.
The new product "Cremanella RV Concentrate" is obtained from this "Rivicentaris*¹" through Armani's unique new extraction method, and along with other skin care ingredients*¹, "delivered to the skin in a fresh state". Beauty essence designed with "Active Delivery Capsule". Focuses on the signs of aging* ³ that appear due to various external stresses* ², which lead to youthful skin.

【URL】https://www.armanibeauty.jp/ww-00340-arm.html
Armani Beauty's top skincare product "Cremanella"
"Our whole life is in search of perfection, and I believe that nature is the closest form to perfection"
"We strive for perfection, but I believe that nature is the closest thing to 'perfection'." Giorgio Armani.
At Armani Beauty, the guidelines for the development of skincare products are to combine the bounties of nature with advanced science and deliver them to the skin with ultimate usability.
The Armani laboratory screened more than 150 plants and discovered the southern African plant "Mirotamnus flaberifolia". In the dry season with a temperature difference of 0°C to 60°C, in the environment without rain for 6 months, the leaves lose water and become a long-term withered state, but once it rains, when it contains water, it is a wonderful plant that can Restores its original shape within a few hours.
Advanced Science District
Armani Beauty focuses on the presence of metabolites that support the defenses of "Mirotamnus flaberifolia".
With advanced technology, we successfully identified and extracted two interacting metabolites. The "Cremanella" collection is a combination of these "Rivicentaris*¹".
Refined and powerful Armani elegance that protects you from external stress*²
This is a skincare line that brings out the best.
A new product was born from the application of this mysterious plant and new technology unique to Armani.
Responsibility and Sustainability of Sourcing Natural Ingredients
"Mirotamnus flaberifolia" is obtained from Cremanella's common ingredient "Rivecentaris*¹", harvested by local farmers in the Chibi region of Zimbabwe, Africa. At Armani Beauty, we contract with local smallholder farmers to install safe drinking water, sanitary water supply facilities and hand sanitizers through activities such as "AQUA for LIFE", creating sustainable "beauty" in harmony with the environment, society, and pursuit.
Using the latest capsule technology
"Cremanella RV Concentrate" is a plant-derived product born in Japan in cooperation with a Japanese drugmaker.
Using cutting-edge capsules made from cosmetically useful ingredients*¹, we deliver useful ingredients in their fresh state*⁴, ⁵, ⁶, ⁷, ⁸.
In order to put the cosmetic ingredients*⁴, ⁵, ⁶, ⁷, ⁸ into the product as concentrated as possible, I considered incorporating them into the capsule film. "Rivicentaris*¹" is encapsulated within the capsule membrane, vitamin E*⁵, vitamin C derivatives*⁶, ferulic acid*⁷ are encapsulated inside, and the filler hyaluronic acid*⁸ is mixed around the capsule. By repeating the prototype multiple times and thinning the film thickness to the limit, the capsule can be easily broken by the discharge pressure of the finger or the pump of the cosmetic container.
This advanced capsule technology and combination of ingredients make skin beauty possible. It also hydrates the skin and gives it a firm feel. This results in the natural glow of the skin.
Overview of the new "Crema Nera RV Concentrate"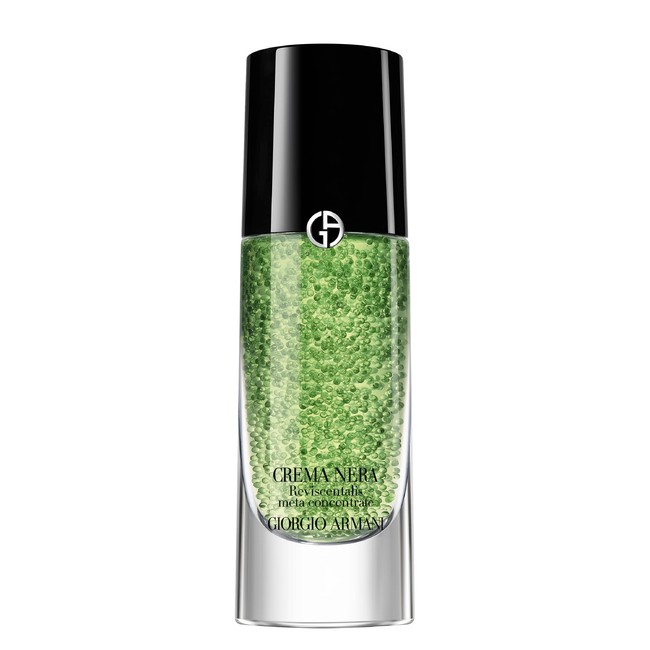 A beauty serum using active delivery capsule technology designed to deliver "Rivicentaris*¹" fresher to the skin. "Rivicentaris*¹" is encapsulated in a capsule film containing beauty ingredients such as vitamin E*⁵, vitamin C derivatives*⁶, ferulic acid*⁷. Additionally, hyaluronic acid*⁸ is added to the capsule. This active delivery capsule pops up and activates with your finger or the pump's discharge pressure. Through hydration, pores are less visible, leaving skin smooth, firm and radiant.
────────────────────────────────────────────────────────────────────────────────────────────────
■ Product Name: Cremanella RV Concentrate (Beauty Essence)
■Capacity: 30mL
■ Price: 43,450 yen (tax included)
■Reservation start date: March 1, 2022 (Tuesday)
■ Release date: April 1, 2022 (Friday)
Armani Beauty Official Online Boutique, National Department Store
* Release dates are subject to change.
■ How to use: After washing face and applying lotion, take an appropriate amount and apply to the whole face.
────────────────────────────────────────────────────────────────────────────────────────────────
* ¹ Milotamunus flaberifolia leaf extract (skin conditioning ingredient)* ² Dryness* ³ Reduces firmness and texture disturbances* ⁴ Ceramide NP (skin conditioning ingredient)* ⁵ Tocopherol (skin conditioning ingredient)* ⁶ Tetrahexyldecanoate ascorbic acid (skin conditioning ingredient)* ⁷ Ferulic acid (skin conditioning ingredient)* ⁸ Sodium Hyaluronate (skin conditioning ingredient)
=========================================================================================================================================================================================================================================================================================================;
Armani Beauty
"Elegance is something memorable, not something striking"
Giorgio Armani's fashion sense and aesthetic is reflected in the worlds of fragrance, makeup and skincare.
Beauty, simplicity and quality come from the finest materials. We offer refined elegance.
=========================================================================================================================================================================================================================================================================================================;
Armani Beauty Official Website: https://www.armanibeauty.jp/
Armani Beauty LINE official account ID: @armanibeauty
=========================================================================================================================================================================================================================================================================================================;
To company press release details (2022/03/14-19:47)